Powerful Websites for Home Care & Senior Care Businesses
Our passion is helping senior care businesses grow and expand their reach. We work with any size senior care company and have always given our very best whether your business is a one-person behind-the-scene operation, or a fortune 100 company. 
Our portfolio is ever-changing as fresh new opportunities come on board. Our pride comes from the fact that our clients stay with us long term, many are still with us since we started.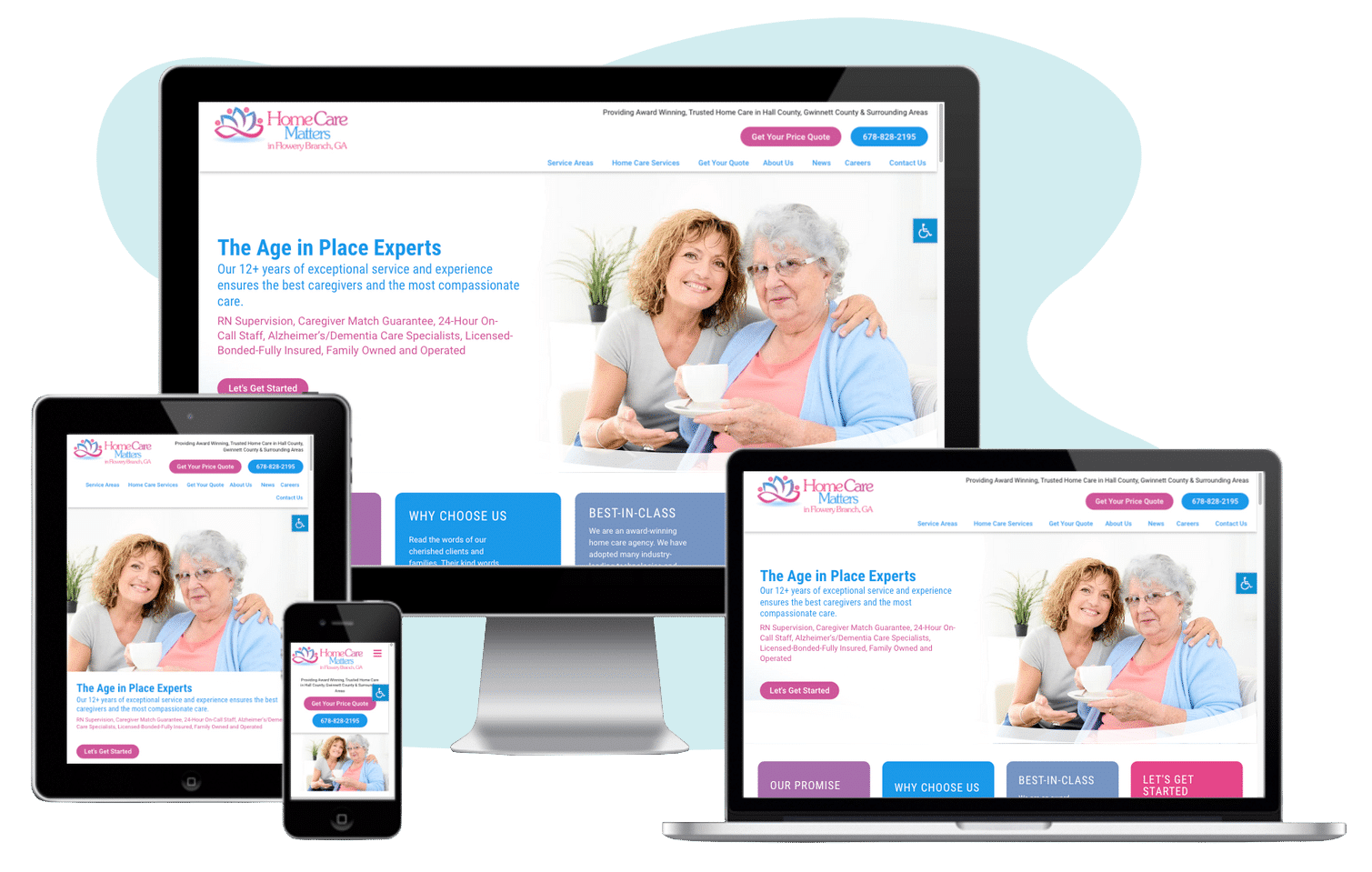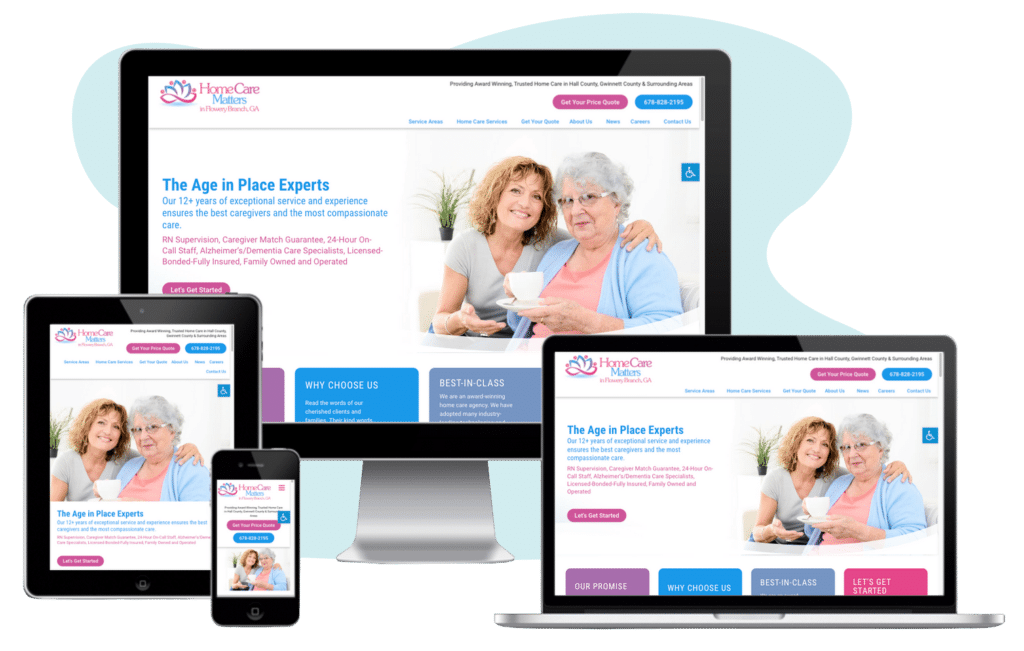 Our Promise to You:
Your website is built right the first time.
Your new website looks fantastic.
Your new design will maximize the chances of getting your business more customers.
Personalized attention – we'll take the time to get to know what your business goals are.
Messaging that demonstrates who your business is and what makes you special.
Interactive involvement with your project.
ASN Advanced Websites Include:
Professionally designed for home care businesses.
Search Engine Optimized (SEO).
Full-time technical support team.
Mobile-ready, responsive design.
Tested on Internet Explorer, Chrome and Firefox.
Tested on desktop and mobile.
Optimized for speed and fast-load times.
Monitored 24/7/365 with better than 99.9% uptime!
Professional Content Writing.

Career pages.

ADA Accessibility.
Your Complete Home Care Website Design Solution
With Approved Senior Network technology and powerful built-in features, we have the freedom to design a website you're proud of.
How We Create Home Care Websites
Step 1: Information Form and Consultation with our lead web developer. This meeting helps us understand your mission, vision, values, and important aspects of your company story.
Step 2: A preview of your new "home page" so that we know you are happy with the look and feel of your new website.
Step 3: We give you the opportunity for a first round of edits – this is the first time you get to see the whole website!
Step 4: We review your edit requests and complete the project.
Step 5: With your permission, your new home care website goes live!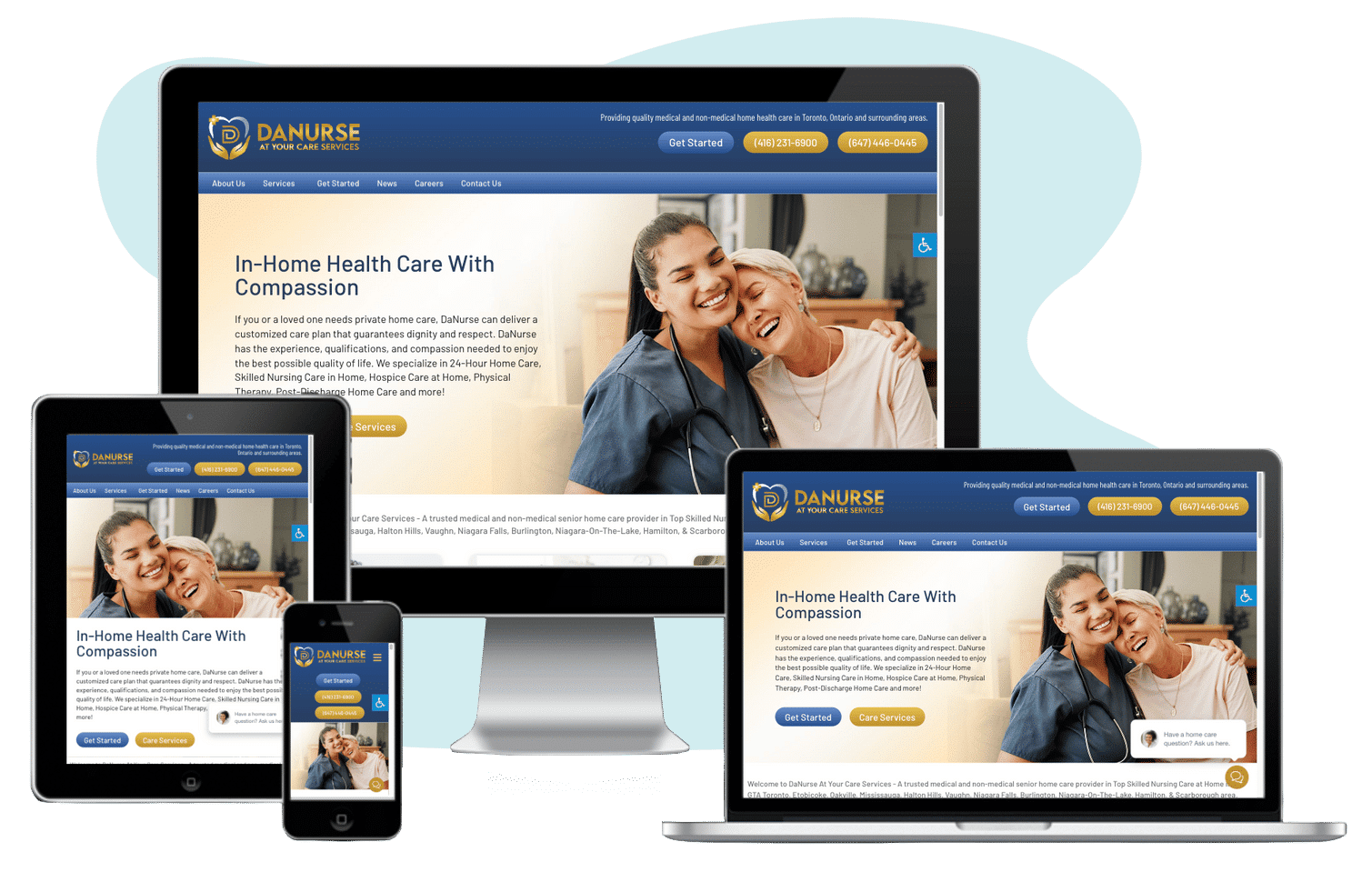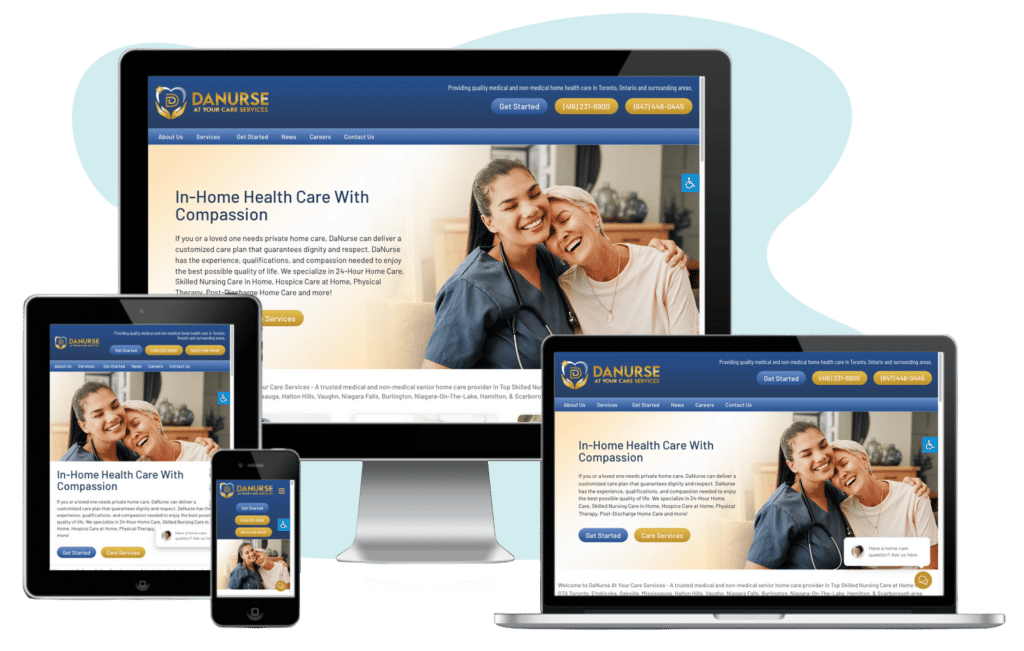 Ready to get started? Would you like a free consultation and audit of your current website? Fill out our form and let's chat.
Fully Managed Websites - No Worry, Less Stress
Business-grade hosting on super fast servers that are fully secure so your website loads lightning fast and is safe from online threats.
We take care of keeping your website up-to-date and secure against hackers. Daily back-ups, and running smooth and loading fast!
Technical and developer support for when you need help changing something or adding something new.
List of All Features
All ASN websites come with a long list of features that make your website a "hands-off" powerful sales rep for your business.
Analytics integration and setup
Integration with 3rd party software, or tools
Blogging capabilities
Performance optimized servers
Free SSL Certificate
Business-grade AI-powered firewall with active threat detection
Free on-demand staging site
Uptime monitoring
Daily website backups
Website software updates
Database optimization
Malware scanning
Priority Email Support
Monthly Developer/Technical Support
Broken link monitoring
Image Optimization
Website performance testing
Keyword rank tracking (Advanced Monthly SEO program)
The leader in home care website design.
Stand out online with a professional website. With Approved Senior Network, we can turn your idea into a reality.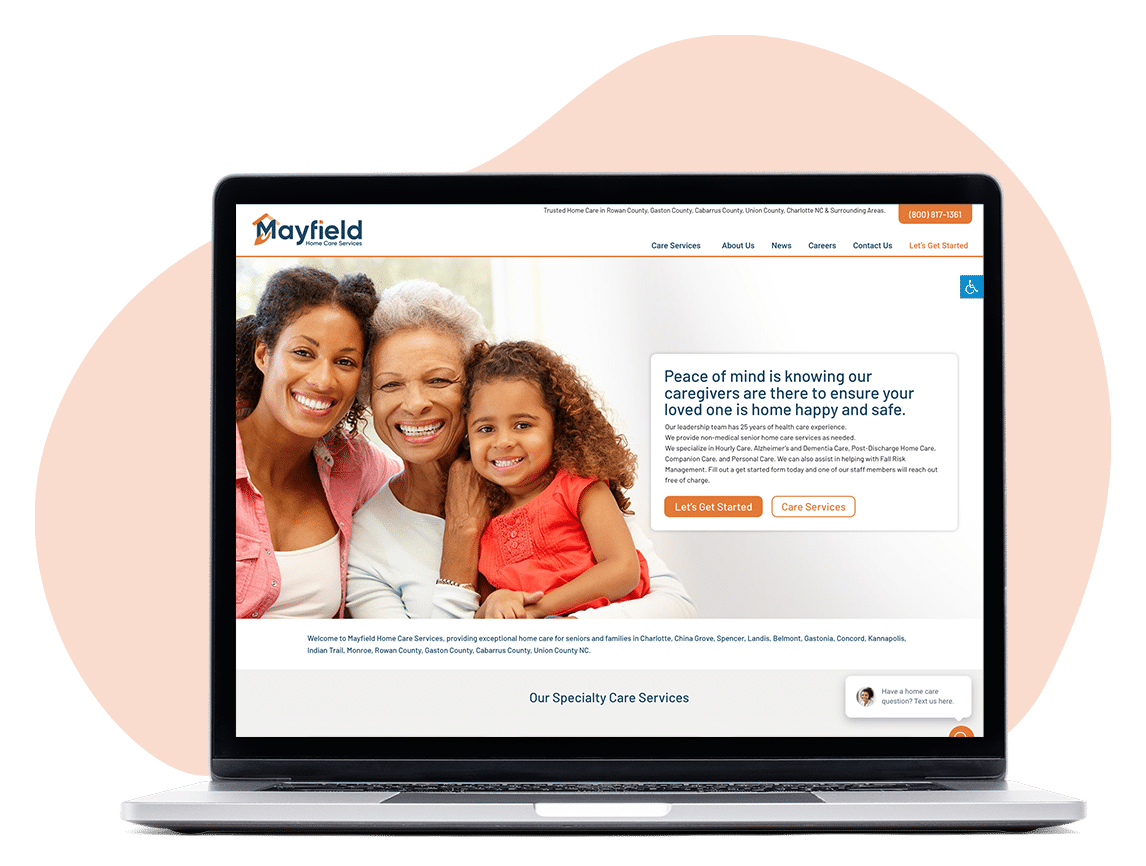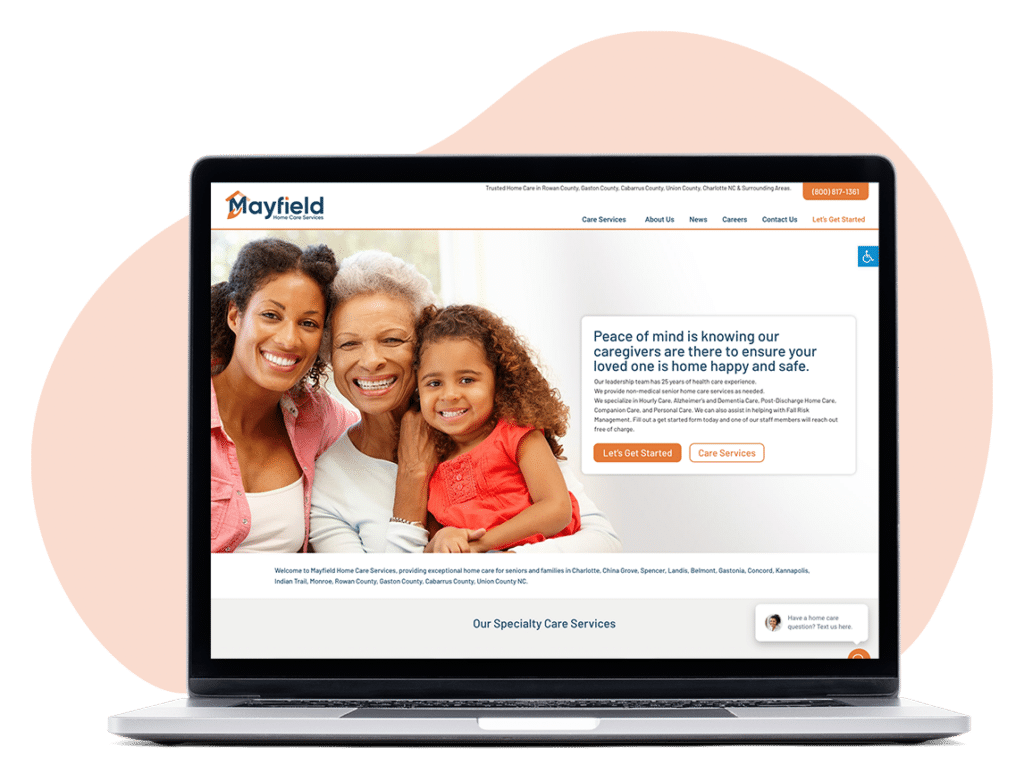 The best web designers for home care and senior care
Finding the best web design company for home care and senior care companies depends on many different things.  There are many factors to consider when looking for the right company to work with. If you want to visually upgrade your existing website, many online companies can offer you this service or you can look at the templates available, and attempt it yourself. These templates, however, can be tricky if you don't understand how to adjust your existing formats properly. (and consider the learning curve to understanding the process).
Many designers have taken years to perfect their craft and the expectation for you to master it on a weekend is unrealistic. There are additional things to consider with professional web design. It's not always pretty images and clever text. Think for a moment of the strategy of ranking on search engines as well. DIY can also work against you if you have an SEO (search engine optimization) strategy in place. As tempting as it is to do it yourself, there's a huge advantage to hiring a professional web designer like Approved Senior Network.
We Specialize in Home Care Website Design and Development
Your home care business is the result of tons of hard work. It's a visual representation of your brand. Let us help take your home care agency into the 21st century with a HOME CARE WEB DESIGN that proudly represents your faith and attracts new members to the faith.
Assisted Living Web Design
Your Assisted Living or Care Home is a visual representation of your brand, on-call 24/7/365. Let us help you make sure that representation attracts, engages with and converts your target audience into paying customers and raving fans.
Senior Care Web Design
No matter what your senior care business type, our team can help design an online presence that is optimized to convert, rank and impress.
Approved Senior Network Home Care Web Design
Based in St. Charles, MO, with offices in Phoenix, AZ,  Boston, MA, and Lexington, KY, our team has a big-city experience with small-town friendliness.
This adaptability and experience give us the range to interact professionally with all sizes of companies and corporations. No matter the size of your senior care business, we value your decision to integrate us as a part of your support network. We have a small company with limited overhead so we can pass the savings on to you. It is our goal to put you, our valued client first, and one of the ways we do that is to carefully consider how our business decisions affect our clients.
Approved Senior Network Marketing specializes in everything from graphic design, web design, SEO, Internet marketing, and online services.
Our team will not only provide you with a user-friendly and striking website design, but we will also ensure that the site reinforces your brand, increases traffic, and increases customer loyalty. Our website designers use web design elements, including programming, PHP, MySQL, and other trustworthy software technologies.
This will ensure that your finished product is not only sophisticated and eye-catching but utilizes the most current technology in the most efficient way. Our amazing design team will provide you with professional, web design, business branding, hosting, and website development without breaking the bank. Our team has advanced graphic design and web development knowledge, as well as branding and marketing capabilities that can elevate your identity in the marketplace.
We pride ourselves on providing you with the competitive edge you need, at a more than fair price. In addition to our web design services and hosting, our knowledgeable, experienced, and dedicated team will provide you with the best customer service from beginning to end to ensure your satisfaction.
We are constantly evolving to be able to provide affordable, quality, creative designs and solid SEO to support your vision for your company and respect your budget.
We won't "upsell" you a function or feature that will not elevate your business or provide you value in the marketplace. A web design company that maintains your company's integrity is within your grasp. Our affordable web designers work with specialty niche markets, including home care, assisted living, care homes, care managers, elder law attorneys, long-term care insurance agents, and more.
We believe that small businesses can easily compete on a level playing field with the right web presence.
Ready to get started? Would you like a free consultation and audit of your current website? Fill out our form and let's chat.
Frequently Asked Questions About Home Care Website Design